So many SQL Server and PowerShell pros have joined the dbatools team and we're producing well designed PowerShell commands like mad!
dbatools is not only intended to be a great migration tool, but also a toolset to help DBAs follow best practices. We like to think of these commands as fully automated Wizards that are executed from the command line instead of the GUI.
Best Practices Commands
Ever read a really great article about how to do something properly but then kinda forgot and you have to revisit each time? Well, we've codified some those practices for you, making them easy to both follow and remember.
Performs a DBCC CHECKDB
Backs up the database WITH CHECKSUM
Restores with VERIFY ONLY on the source
Creates and Agent job to easily restore from that backup
Drops the database
The Agent Job restores the database
Performs a DBCC CHECKDB and drops the database for a final time
Simply amazing! You can read more about Remove-SqlDatabaseSafely on Rob's blog.
Set-SqlTempDbConfiguration
These commands, created by Mike Fal, sets tempdb data and log files according to best practice calcluations. Mike writes more about this function on his blog.

Find-SqlUnusedIndex
This command, created by Aaron Nelson, will help you to find unused indexes on a database or a list of databases. It also tells how much space you can save by dropping the index. For now only supported for CLUSTERED and NONCLUSTERED indexes.
Commands that make your life easier
Show-SqlDatabaseList
Shows a list of databases in a GUI. Returns a simple string. Hitting cancel returns null.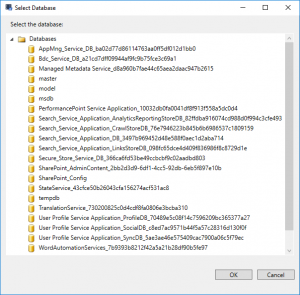 Test Commands
Test-SqlTempDbConfiguration
Test your TempDb Configuration

Test-SqlNetworkLatency
This function is intended to help measure SQL Server network latency by establishing a connection and making a simple query. This is a better alternative than ping because it actually creates the connection to the SQL Server, and times not only the entire routine, but also how long the actual queries take vs how long it takes to get the results.

Test-SqlPath
Use this command to determine whether the SQL Server service account can "see" a directory. This command uses master.dbo.xp_fileexist under the hood and returns $true or $false.

Test-SqlMigrationConstraint
Shows if you can migrate the database(s) between the servers. When you want to migrate from a higher edition to a lower one there are some features that can't be used. This function will validate if you have any of this features in use and will report to you. The validation will be made ONLY on on SQL Server 2008 or higher using the 'sys.dm_db_persisted_sku_features' DMV.
Commands that are coming soon
And we've got more planned!
Move-SqlDatabaseFile
Move database files from disk to disk

Get-SqlDatabaseSpace
Gets information about space avaialable inside the database

Test-SqlBackup
Routine to test your backups

Restore-SqlBackupFromDirectory
Rotuine to restore databases from directories (think the way that Ola Hallengren's outputs his by default)

Write-SqlSpWhoIsActive
Write the results of Show-SqlSpWhoIsActive to table!

Install-SpWhoIsActive
Auto-installer for sp_WhoIsActive

Disable-SqlLogonTrigger
Like Reset-SqlAdmin, this is a command that won't be used often, but when it is, its a lifesaver!

Get-SqlClusterActiveNode
Returns the network name of the active node in a cluster
Join us!
Some of these commands are in their infancy. Want to help make them better? Come join the coding party! We're all hanging out on the SQL Server Community Slack in the #dbatools channel.